The first time in the United States that plastic laminate toilet compartments of this quality are offered at these prices - A Real Value! --Call 770.868.1423 today for further information.
The Toilet Compartments Feature
Strong Die-cast Hardware - Heavy Duty, Chrome Plated
High Pressure Plastic Laminate -
Resists Dents and Graffiti
Floor Mounting with Anti Grip Aluminum Head rail – For a Strong Durable Job
Easy Maintenance –Cleans with Common Solvents and Detergents
Several Popular Colors Available -Neutral Colors to Complement Public Restrooms
Materials To Meet Handicap Codes -Many Sizes in Stock
Can Replace Any Existing Situation -Matches Various Layouts with Ease
All Materials For A Complete Installation - Panels, Doors, Pilasters, Brackets, Door Hardware, Overhead Bracing, and Necessary Fasteners Included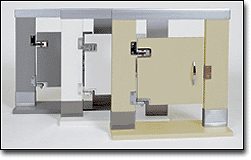 Warehouse stock of plastic laminate toilet compartments in several popular colors that will complement any restroom scheme.

Specifications:
The laminate is high pressure vertical grade,
bonded to a high density multilayered particle board core. All plastic laminate is bonded to the core with approved adhesive, under controlled temperature and pressure. Doors are pre-notched for concealed gravity type hinges. Panels and doors have a finished thickness of 7/8 inch, pilasters have a finished thickness of 1-1/4 inch.
Download SUNLIGHT Specifications PDF