SUN UP
(CEILING HUNG)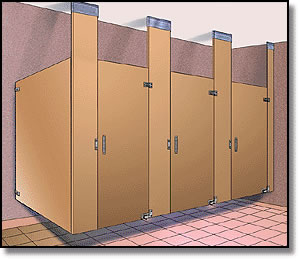 Ceiling heights should either be 7'6" or 8'0" to avoid non standard penalties in pricing.
Ceiling attached light fixtures should be located so that they do not conflict with partition pilasters.
Ceiling hung compartments are ideally installed wherever easy floor maintenance is a major consideration.
Be sure the supporting structural members are specified under the miscellaneous metal section. Structural supports are to be furnished, drilled, installed and hanging rods are to be installed by others.